The Vietnam National Petroleum Group (Petrolimex) will list its shares coded PLX on the Ho Chi Minh Stock Exchange (HOSE) some time between April 18 and 21.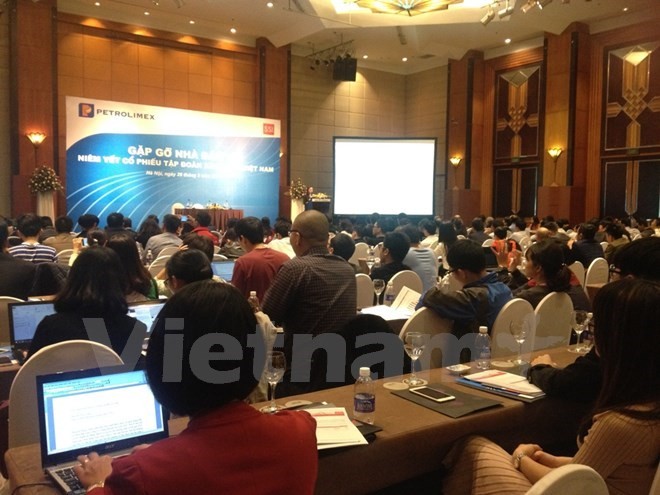 Petrolimex holds a meeting with investors before listing its shares on the Ho Chi Minh Stock Exchange. (Source: VNA)
The information was released at an event held on March 29 by Petrolimex and Saigon Securities Inc. (SSI).
According to Bui Ngoc Bao, Chairman of Petrolimex Board of Directors, the price of listed PLX shares will not be lower than the price sold to strategic shareholders, which ranges from 47,000 to 50,000 VND (2.06 USD to 2.19 USD) per share to ensure the liquidity of shares and shareholders' interests.
The group also pledged a dividend rate of at least 12 percent in the next three years.
2016 was a successful year of Petrolimex with combined profit of 6 trillion VND (nearly 264 million USD) and a planned dividend rate of 16 percent.
In 2017, Petrolimex aims for 163 trillion VND (7.16 billion USD) in revenue and pretax profit of 4 trillion VND (176 million USD).
In upcoming time, Petrolimex would focus on its core business of petrol and oil trading, thus maintaining its leading position in retail and distribution. It will also promote research and investment in clean energy.
The company aims for a place in the top five companies in Vietnam in terms of scale and efficiency.
According to Petrolimex's Business Report, the corporation has a chartered capital reaches nearly 13 trillion VND (571 million USD) and market capitalization of 52 trillion VND (2.28 billion USD), one of the 20 companies with the largest market capitalisation on the market.