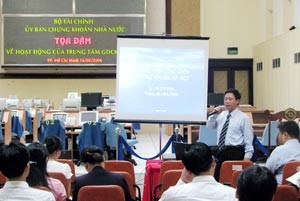 HASTC introduce about this bourse and Pha Lai Thermal Power Company for investors in Ho Chi Minh City. (Photo: T.C)
Pha Lai Thermal Power Joint-stock Company is listed on the Ha Noi bourse with the trading code of PPC.
In its first trading session at May 19, PPC was traded at VND 36,000 per share.
PPC is the biggest company in capital size to list on Viet Nam's stock market with the total number shares reached 307.19 million, equivalent to VND 3,071 billion of equity capital (equal US$ 191 million), nearly two times greater than VNM, which is listed on Ho Chi Minh City Securities Trading Center (HSTC).
PPC is the 12th stocks of the Ha Noi bourse and raise the size of the whole bourse to VND 5,000 billion.
This Hai Duong province-based power plant is also the third equitized subsidiary of Electricity of Viet Nam (EVN) to list, after Vinh Son – Song Hinh Hydro Power Joint-stock Company (VSH) and Khanh Hoa Power Joint-stock Company (KHP), which has just gone public.
Related Articles:
CII's Debut Leads the Market in Trading Volume
Stock Exchanges To Increase Trading Time