Prime Minister Nguyen Tan Dung has ordered the Ministry of Finance to pressure the State Securities Commission to carry out closer supervision of stock market activities.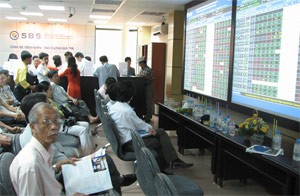 PM Nguyen Tan Dung asks authorities to carry out closer supervision of stock market activities (Photo: T.C.)
The dispatch was issued yesterday following a meeting on January 18 between the Prime Minister, the Finance Minister, the central banks' governor, and the Chairman of the State Securities Commission. 
 
In his dispatch, Mr.Dung said that "the development of the stock market is uncovering many issues that need to be addressed, such as the continuous increase of some stocks, the quality of services offered by intermediary financial organizations… and management of information dissemination."
 
He went on to add that a lack of regulatory controls in some areas coupled with a lack of coordination between ministries has led to a situation where the State Securities Commission cannot always control the market.
 
The Government leader said it is essential to continue facilitating the rapid but sustainable development of the stock market and make it an important capital source for the country's economy, defend investor's legal interests, and fully develop Viet Nam's financial market.
 
In the dispatch, he asked authorities to manage the market carefully so it develops in a stable manner.
 
The PM also affirmed that the cap on foreign ownership in local listed firms will stay unchanged. "Foreign participation in Viet Nam's stock market needs to comply with Viet Nam's international commitments and socio-economic conditions, however, in the foreseeable future, the proportion of foreign ownership in listed firms will not be increased," PM Dung said.
 
The Government ordered relevant ministries to establish a commission to closely monitor activities on the stock and money markets this quarter.