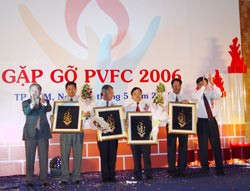 The PVFC's meeting to mark a public appearance in the finance of South Viet Nam. (Photo: T.C)
The Governor of the State Bank of Viet Nam (SBV) has just signed Decision No. 971/QĐ-NHNN, allowing the Petrol Viet Nam Finance Company (PVFC) to issue long-term bonds in 2006.
PVFC will issue, on the coming June 19, VND 300 billion and US$ 30 million long-term bonds.
According to a PVFC official, the bonds' interest rate will be made public within a few days. The rate will take into account the benefit of investors and the market's needs.
Previously, PVFC issued 5-year term bonds which will mature on September 3, 2008. The rate of these VND bonds is 8.7%in the first year, and 8.03% and 8.63% in the second and the third years, respectively. The rate in the last two years is calculated from the average deposit 12-month rate of 4 state-own commercial banks plus 0.5%.
Related Articles:
HCMC Proposes to Raise Municipal Bond Interest Rate
BIDV's Bonds to Be Listed By the End of June
BIDV to Offer More VND 100 Billion Worth of Bonds to Individual Investors
Vietcombank Bonds to Go on Bourse Next Month