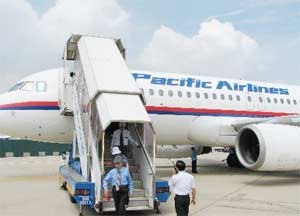 Airplane of the Pacific Airlines at the Ho Chi Minh City-based Tan San Nhat International Airport. (Photo TK)
The State Capital Investment Corporation (SCIC) sold 30% of Viet Nam's Pacific Airlines stocks (worth US$50 million) yesterday to Australia's largest carrier, Qantas Airways.
Citing sources close to Qantas, a local newspaper said the investment was a key plank in the airline's strategy to take on low-cost carriers such as Air Asia and Tiger Airways in the world's fastest growing aviation market.
As a result of the deal, Qantas will become a strategic partner with Pacific Airlines, a low-cost airline under the management of the State Capital Investment Corporation (SCIC).
Until now, the SCIC held 92% of Pacific Airlines, Saigontourist 2% and a subsidiary of the Transport Ministry around 1%. 
Pacific Airlines services routes connecting Ho Chi Minh City with Da Nang and Ha Noi as well as some international routes to Taipei, Kaohsiung and Bangkok (in cooperation with Bangkok Airways).