The Ministry of Finance has promulgated Circular No. 11/2006/TT-BTC on February 21, 2006, amending Circular No. 110/2002/TT-BTC on December 12, 2002 providing guidelines on managing of fees and duties of bank, securities and insurance companies, in order to create favourable condition for issuing and trading securities.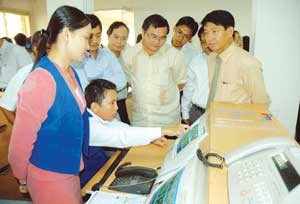 Investors hope for new oppotunity
Securities trading fee and fund's unit fee decrease by 0.05% of trading value, and bond fee decreases by 0.0075% of trading value.
The member fee and the depository member fee for securities firms and depository units are cancelled.
The fees for the listing companies have four levels: VND5 million for the listing values worth less than VND10 billion, VND10 million for the ones worth from VND10 billion to less than VND50 billion, VND15 million for the ones worth from VND50 billion to less than VND100 billion and VND20 million for the ones worth from VND100 billion and higher.
The Stock Exchange Center and the Depository Center collects and use those fees to cover the services' charges.

| | | |
| --- | --- | --- |
| No. | Fee | Cost |
| 1 | Equipment Usage Charge | VND20,000,000/terminal device/year |
| 2 | Transaction Fees: (for individuals and trading organizations) |   |
| 2.1 | Shares, Fund's unit | 0.05% trading value (decreasing by 50%) |
| 2.2 | Bond | 0.0075% trading value (decreasing by 90%) |
| 3 | Annual Listing Fee (for listing companies): |   |
| 3.1 | Listing values worth less than VND10 billion | VND5,000,000 |
| 3.2 | Listing values worth from VND10 billion to less than VND50 billion | VND10,000,000 |
| 3.3 | Listing values worth from VND50 billion to less than VND100 billion | VND15,000,000 |
| 3.4 | Listing values worth VND100 billion or higher | VND20,000,000 |
| 4 | Deposit Fee |   |
| 4.1 | Securities Deposit | VND2/ plot of securities/month |
| 4.2 | Securities Transfer | VND5/ plot of securities (not over VND500,000 for 1 transfer session) |
Note: 1 plot = 10 securites