The Finance Ministry made an important amendment in its new circular No.95 as it forbids intermediary financial organizations that take part in the valuation of or conducting of auctions for an enterprise, to purchase those related stocks. The new regulation, which is effective today, promises to create a more equally competitive environment for investors.
 
Leveling the playing field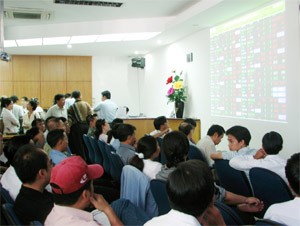 The new regulation of the Finance Ministry promises to create a more equally competitive environment for investors. (Photo: T.C.)
Formerly, at stock auctions for the equitization of state-owned enterprises, individual investors always had to bid against investment organizations that were financially strong and highly experienced in analyzing information. Some of these investment competitors were the intermediary financial organizations acting as consultants for those enterprises.
 
The former circular promulgated in 2004 didn't limit participation of enterprises in bidding on the stocks for equitization. Therefore, securities companies who advised and valued an enterprise could, in turn, purchase its stocks as an independent investment company.
 
This did not maintain an even competing field being that they had access to endless amounts of internal information let alone the active value pricing of the shares.
 
In response to the inadequacies of the former circular, the Finance Ministry adjusted some clauses relating to the process of state-owned enterprises' equitization.
 
Regarding the stock bidding process, the new circular regulates that "intermediary financial organizations that carry out valuation or the auction of stocks for equitization of an enterprise are not allowed to attend the auction with the intent to purchase stocks."
 
This is an important adjustment because of the incredibly fierce competition among investors, especially interested companies, at stock bids in the past.
 
At a stock auction for Petroleum Technical Services Company last August, although 37.3 million shares were offered, the volume of orders exceeded that figure by six times.
 
Due to the supply-demand difference and poor analytical data, individual investors bid incredibly inflated prices. The highest winning bid price was VND50,000 (about US$3) per share while the starting price was a mere VND10,500. The lowest winning price was VND35,000 per share.
 
Encouraging Investors
 
In terms of determining strategic investors, the new circular said that "Employees of equitized enterprises and legal people of the same general company are not determined to be strategic investors."
 
This new regulation is aimed to prevent internal and closed equitization which limits the number of stocks brought onto the market.
 
With the new circular, stocks up for public bid are to be valued no lower than 20 percent of the chartered capital.
 
If the 20 percent rate cannot be satisfied, enterprises have to reduce their stock volume held by state shareholders as long as the company is not required to maintain state control, or else reduce the number of preferential stocks sold to strategic investors and laborers.
 
Another amendment to the old circular intends to protect investors' interests by allowing them to enjoy earned interest from their investments if they haven't been issued the business registration certificate within three months.
 
Enterprises are allowed to calculate expenses to pay loan interest to investors from the fourth month based on the total face value of all purchased stocks.
 
The interest rate cannot exceed the short-term interest rate for commercial banks of the same period at the time of interest calculation.
 
All incurred expenses can be lumped in with other business expenses.