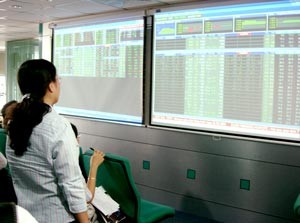 Sacom preprares to issue 14 million shares on the stock market. (Photo: T.C)
The Cable & Telecom Materials Joint-stock Company (Sacom) prepares to issue 14,040,000 shares to increase its chartered capital to over VND 420 billion. Sacom is currently the fifth biggest company on the Ho Chi Minh City bourse and will become the second after the issuance.
The additional shares will be offered to existing shareholders as bonus shares at the ratio of 2:1. They are financed by VND 140.4 billion from the company's Q1/2006 retained earnings, the investment and development fund, and financial reserve fund.
This is the third part of Sacom's plan to mobilize capital which has been initiated since the end of 2005.
In the first phase of the plan, Sacom issued 5.4 million shares to strategic investors. In February 2006, the company continued to issue 4.68 million shares to existing shareholders by offering buying rights of 1 share at VND 10,000 for every 5 shares owned.
Besides, subjecting to the shareholders' decision at the ad hoc meetings, the company's board will distribute 47,510 shares remained from the second phase to its employees.
The money raised from the 3 phases is known to finance Sacom's investment in Saigon Cable Joint-stock Company (VND 150 billion of chartered capital, Sacom owns 49%), and cable manufacturing joint-venture of Sacom, Vietnam Electric Wire & Cable Corporation (Cadivi) and Taihan – Korea, (chartered capital of US$ 28 million, Sacom owns 20%).
Currently, foreign investors possess 39% of Sacom.
Related Articles:
Listed Companies To Raise More Fund
A Tour of Annual Shareholder Meetings: Investors Excited About Development Policies