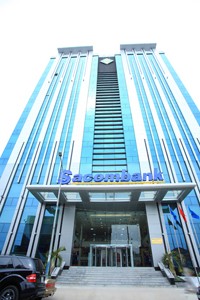 The Sacombank headquarters in HCM City
Sacombank, a major non-State bank based in Ho Chi Minh City, has dismissed "rumors" that strategic partner ANZ Group has offloaded its stakes in Sacombank.
On Nov. 10, the State Bank of Vietnam website quoted Sacombank chairman Dang Van Thanh as saying that it is not true that ANZ would sell out Sacombank's stakes that ANZ is holding.  
Mr. Thanh was quoted as saying that under the contract between the two firms, ANZ has to notify Sacombank before any selling out, but Sacombank has not received any information from ANZ so far.

Besides, major shareholders also have to notify the stock exchange where their shares are listed, he added.
Based on these grounds, Sacombank said that those "rumors" are not correct, and that "investors need to take cautions." 
Sacombank is a leader among Vietnamese joint stock banks with a chartered capital of VND5.12 trillion (US$300 million) last year.
ANZ Bank first invested in Sacombank in 2005 and now holds a 9.87 percent stake.