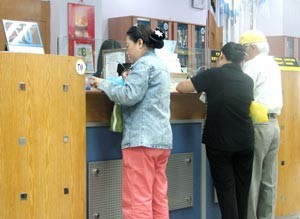 The first bank's stock prepares to list on the stock market. (Photo: T.C)
The State Securities Commission (SSC) has just unofficially allowed Sai Gon Thuong Tin Joint-stock Commercial Bank (Sacombank) to be listed on the Ho Chi Minh City Securities Trading Center (HSTC).
On the coming June 6, SSC will hold an approval ceremony for the bank. This event marks an important milestone of the Viet Nam's stock market as it is the first commercial bank to be listed.
After the floatation, this bank will overtake Vinamilk as the biggest enterprise on HSTC and the second biggest in Viet Nam, behind only Pha Lai Thermal Power Joint-stock Company (PPC) listed on Ha Noi Securities Trading Center (HASTC), in term of chartered capital.
Sacombank is expected to be listed by July. The bank's floatation is not only an important event to its own but also affects other commercial banks, which intends to list like the Asia Commercial Joint-stock Bank (ACB), and partly enriches the "goods" on the stock market.
Sacombank is also allowed by SSC to issue an additional 30 million shares right after its debut, including 10 million shares to be privately sold to strategic partners. The remaining 20 million shares will be offered to the public through auctions.
Currently, Sacombank's chartered capital reached VND 1,899 billion. The bank has three foreign investors, International Finance Company (IFC), Dragon Capital Holdings and ANZ, holding approximately 30% of its stocks.
Sacombank has a network of more than 118 branches and outlets nationwide and have partnership with 208 commercial banks in 76 countries. The bank's earnings before tax this year is estimated at VND 420 billion.
Related Articles:
Pha Lai - Biggest Company On The Stock Market
CII's Debut Leads the Market in Trading Volume
Two More Enterprises Are Licensed To List
Sacombank to Raise Chartered Capital