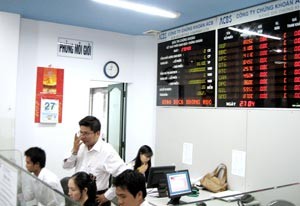 Securities firms is fast growing now. (Photo: T.C)
May 22, the State Bank of Viet Nam (SBV) has permitted Sai Gon Thuong Tin Joint-stock Commercial Bank (Sacombank) to set up Sai Gon Thuong Tin Bank Securities Company (Sacombank Securities) with the registered capital of VND 300 billion.
After being founded, Sacombank Securities will be the 14th securities company on Viet Nam's stock market and the biggest firm in term of chartered capital.
On top of the permission to set up securities firm, Sacombank are going to officially receive its listing license from the State Securities Commission on June 6, and become the first commercial bank to list on the stock market.
With the chartered capital of VND 1,899 billion, Sacombank is the biggest company on the Ho Chi Minh City bourse.
Sacombank is planning to raise its equity to VND 4,000 billion by the middle of this year.
As part of the plan, it will issue more than 30 million shares, raising its chartered capital to VND 2,200 billion, right after its debut on the stock market. As of these new shares, 20 million will be offered to the public.
Related Articles:
Sacombank Prepares To List
Habubank Securities Company Starts up