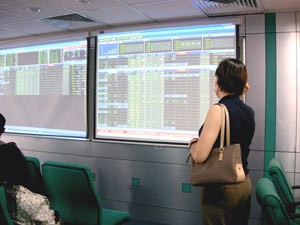 With the sombre stock market, Sacombank must delay its issuance of 20 million shares. (Photo: T.C)
The Sai Gon Thuong Tin Commercial Joint-stock Bank (Sacombank) announced the delay of its issuance of 20 million shares via public auction. However it also confirmed that the 10 million shares sale for strategic investors remains unchanged.
Sacombank has sent documents to the State Securities Commission (SSC), asking to alter its share sale plan because of stock price dropping.
Recently, STB share of Sacombank has fallen sharply from VND 81,500/share to VND 68,500/share in the trading session of July 26, and stayed flat in the next session. There has been a runaway of investors from the stock, causing the price to drop despite strong buying power from foreign investors.
On July 26, SSC accepted Sacombank's request on the principle. However SSC also noted that Sacombank needs to complete the procedure for the new detailed plan, get approval from its shareholders, and provide necessary information complying with the current regulation on securities and securities market.
The issuance of VND 200 billion worth of share in par value, when the demand for stocks is weak, might cause a big crisis and cast negative impact on the development of the market, an SSC official said.
Stocks in today morning trading session was halted from falling as STB stayed flat, giving investors' a somewhat better mood. At closing, several other key stocks such as VNM, VSH, REE, SAM, GMD, and KDC all surged.
Related Articles:
Vietnamese Stock Market: Stocks Sank Dramatically
Sacombank Can Buyback 30% Of Its Share
Sacombank Offers 30 Million Shares To Public