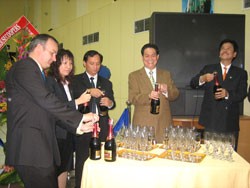 Sacombank Chairman Dang Van Thanh (2nd from R) opens champagne for celebration at the debuting ceremony.
Shares of Sai Gon Thuong Tin Commercial Joint Stock Bank (Sacombank), coded STB, were officially traded at the Ho Chi Minh City Securities Trading Centre (HSTC) on July 12, making Sacombank the first bank in the country to go on bourse.
In its first trading session, Sacombank traded roughly 763,190 shares at a price of VND78,000 each, totaling VND59.5 billion.
Sacombank issued over 30 million shares after its initial listing, of which 10 million shares were offered to strategic domestic and foreign investors while the rest were auctioned to the public at the stock exchange.
With a total chartered capital of nearly 1.9 trillion VND, Sacombank is currently the largest listed business among the 41 listed firms at the centre, said Mr. Tran Dac Sinh, Director of HSTC.
The bank's participation in the securities market has tripled the total number of listed shares at his centre from late last year and has increased the total value of listed shares by 44%, according to Mr. Sinh.
Related link:
Website of Sacombank
Sacombank Offers 30 Million Shares To Public
The Banking Industry on the Eve of WTO Accession: Forming a Transparent Finance – Banking System and Coming Closer to the Stock Market
Sacombank Receives Listing License
Viet Nam Dragon Fund Buying in GIL and TMS