Sao Mai Investment and Construction Corporation, or Sao Mai Conscorp, will debut with over 9.91 million shares on the Hochiminh Stock Exchange on Jan. 18, the company announced Monday.
The corporation, based in An Giang, a key province in the Mekong Delta, will list 9,912,600 common shares with the code ASM on the Ho Chi Minh City bourse. Its current charter capital is VND99.126 billion.
The ASM shares will start trading at VND50,000 each, according to the stock exchange.
Sao Mai Conscorp held a meeting with investors in the city Monday to publicizes its shares and answer questions from investors.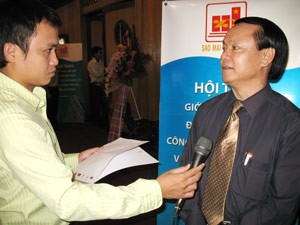 Sao Mai Conscorp president and CEO Le Thanh Tuan (R) tells media about the corporation's business strategy at an investors meeting in Ho Chi Minh City Jan. 11, 2009 (Photo: Tuong Thuy)
President and chief executive officer Le Thanh Tuan said his corporation became an joint stock company in 1997 with a charter capital of VND905 million. Its predecessor was a State-run architecture company established in 1987, under the An Giang Province People's Committee.
Mr. Tuan said in 2003 Sao Mai set up IDI, a subsidiary operating in fisheries, the strongest area of the Mekong province. He added that his corporation increased the charter capital to VND33.82 billion between 1997 and 2004, after three times.
The CEO said in 2007 his corporation made the first public offering at VND104,000 a share, raising the charter capital to VND49.56 billion. At present, Sao Mai includes IDI, Tourism and Fisheries Company Trisedco, Dung Thinh Phat Limited Co., and some other subsidiaries.
The corporation's current main areas are real estate and fisheries, and it also has plans to expand in tourism, said Mr. Tuan. Sao Mai is operating a resort in the southern coastal province of Ba Ria-Vung Tau, and is carrying out the two tourism projects in An Giang – Tra Su Mountain Tourist Park with VND85 billion, and Cam Mountain Resort and Villas with VND100 billion.
The consulting company for Sao Mai in getting listed is BIDV Securities, under the Bank for Investment and Development of Vietnam (BIDV). A report by the consulting company seen at Monday's meeting with investors said Sao Mai's pre-tax profit was estimated at VND54 billion (over US$2.92) in 2009, and forecast to be VND80 billion (more than US$4.33 million) this year.