Viet Nam's State Capital Investment Corporation (SCIC) has been allowed to open many securities trading accounts at different securities companies, starting Wednesday, the Hanoi Securities Trading Center announced the same day.
This aims to ensure that SCIC can effectively participate to stabilize the market, and this is considered a special case – SCIC is the first organization to do this. Under Vietnamese law, each individual or organization can open only one securities trading account.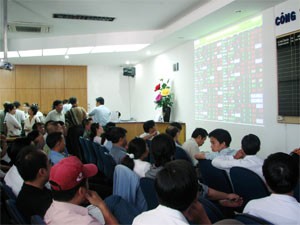 Investors follow up the market at a securities company in HCMC. (Photo: Tuong Chau)
Besides trading via order matching method on the bourse, SCIC can even acquire shares via put-through transactions, which are based on negotiations.
Also on Wednesday, Saigon Securities Inc. (SSI) sent out an infrequent announcement to reject bad rumors about the HCMC-based company. The bad gossips included 'SSI Chairman and CEO Nguyen Duy Hung has been detained,' and 'Merrill Lynch has sued against SSI.'
On Wednesday, SSI sent a notice to the State Securities Commission, HCMC Stock Exchange and Ha Noi Securities Trading Center, saying that these rumors are absolutely not true. Chairman and CEO Nguyen Duy Hung is working and running the company, SSI said. SSI also requested administration agencies to take immediately and proper measures against bad guys.
Because of the rumors, investors rushed to sell more than 1.7 million SSI stocks on the Wednesday morning. Despite of high purchasing power in the market, this sell-out curbed the increase of the VN-Index, and it rose by only 5.19 points after all, to 643.9 points.
Regarding Merrill Lynch, the world leading financial institution has issued a report about the ML Frontier index. The study spells out criteria for selection including liquidity, capital value based on market value, and the percentage of foreign ownership of securities. SSI is the only stock in Viet Nam that satisfies the criteria, and was ranked seventh among the 50 selected stocks.