The Ho Chi Minh City Securities Trading Center (HSTC) introduced a project to turn it into the Viet Nam Securities Trading Department (STD) on April 18, 2006.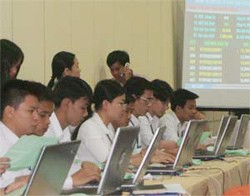 Stock exchange activities at the Ho Chi Minh City Securities Trading Center. (Photo: T.K.)
In fact, the HSTC has operated appropriately in the fist stage of the stock exchange activities. However, when the stock market develops into a higher level, the HSTC is limited in its capacity to assist and control the market.
The transform is a natural development, complying with the Prime Minister's decision on stock market developing strategies until 2010 and the Securities Law, which the National Assembly will pass this year.
The HSTC plans to build the department under the form of a limited liability company, which will be represented by the Ministry of Finance, from 2007 to 2010.
Once the department runs smoothly, it will be transformed into a joint-stock company by selling some of State stakes or issuing more stocks.