The local stock market is expected to continue advancing this week on expectations of buying by foreign investors, analysts say.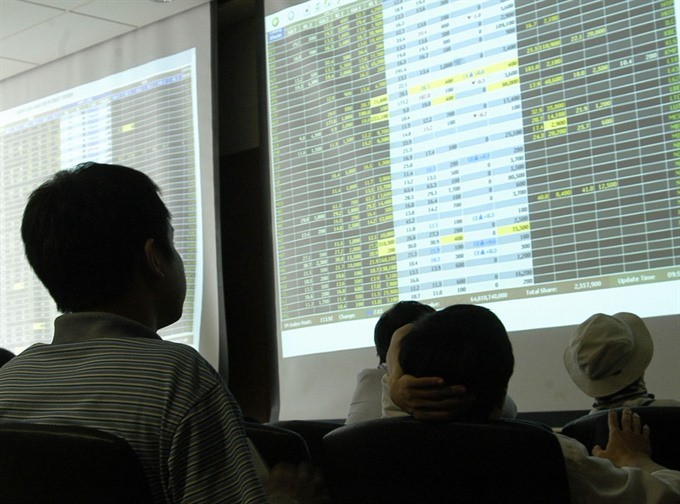 Investors on Bao Viet Securities' trading floor in Hanoi (Photo: VNA/VNS)
"Investors were not surprised with the Fed's decision to increase lending rates on Wednesday. The decision has had little negative impact on Vietnam's stock market and foreign capital will soon return to the market," said Nguyen The Minh, Saigon Securities Inc's head of capital market analysis division.
After the Fed's meeting, the US dollar has kept strengthening against other currencies, especially those in emerging markets. The stronger dollar had motivated foreign investors to offload shares to gain profit in local currencies.
The Vietnamese dong has also suffered from this trend. The State Bank of Vietnam on Friday set its daily reference rate for foreign currency trading at VND22,144 for a US dollar, the highest since the beginning of this year.
"However, the dong is still stronger in comparison with other currencies in the region and this will help foreign investors stop their net selling in Vietnam's stock market," Minh said.
According to Tran Xuan Bach, analyst at Bao Viet Securities Co, there have been no big changes in the global stock markets, including Vietnam, before and after the Fed's meeting. This proves foreign investors are calm about the decision, he said.
"They (foreign investors) have prepared for the decision for a long time and expectations for a bright future of the US economy on tax cut and increasing public spending have motivated them to buy in risky assets."
When the Fed decided to increase lending rates, investors did not have to carry a worry that had lasted for a year, and have become more confident about return to the stock market, Bach said.
Commodities to boost stocks
Steel makers and rubber producers are expected to recover with increasing commodity prices, said Nguyen Ngoc Lan, senior analyst at Agribank Securities Co.
This trend will continue next year and there will be opportunities for leading firms in these sectors, like the Hoa Phat Group (HPG), Hoa Sen Group (HSG) and Phuoc Hoa Rubber JSC (PHR), she added.
Real estate companies are also expected to release positive financial reports for the fourth quarter, and energy firms will benefit from increasing oil prices, said Nguyen The Minh, analyst at SSI.
The benchmark VN Index on the HCM Stock Exchange rose 1.4 percent on Friday to end last week's trading at 675.16 points. It rallied total 3.1 percent in the last three days, bringing a weekly gain of 1.8 percent.
The southern market index is forecast to test the level of 680 points this week.
The HNX Index on the Hanoi Stock Exchange closed Friday at 79.71 points, up total 2.3 percent after the last three sessions. The northern market index inched up 0.1 percent from the previous week.
An average of nearly 194 million shares were exchanged in each session, a week-on-week increase of 3.6 percent, while daily trading value fell 4.4 percent weekly to nearly VND3 trillion last week.
Vietnam's largest brewer Saigon Beer, Alcohol and Beverage Corporation (Sabeco) was the strongest advancing company last week. The company's shares (SAB) jumped nearly 40 percent during last week to become the highest valued stock.