Shares edged down on December 2 on the two exchanges as energy lost steam despite an oil industry agreement on a production cut.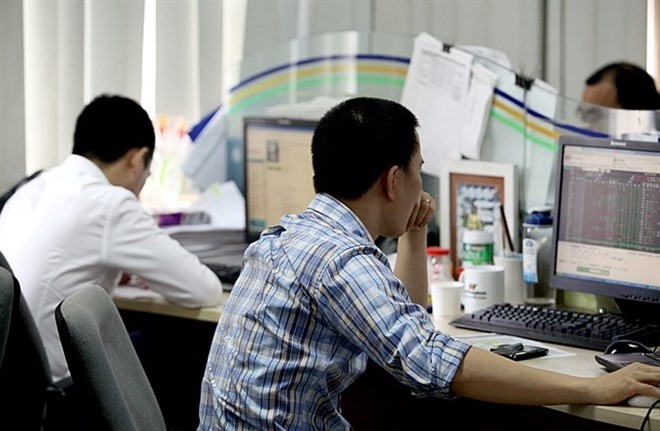 Illustrative image (Source: VNA)
The benchmark VN-Index on the Ho Chi Minh Stock Exchange inched down 0.2 percent to 665.1 points, erasing the previous day's gain of 0.2 percent. The Index slipped 1.6 percent for the whole week.
On the Hanoi Stock Exchange, the HNX-Index closed down 0.5 percent at 81.2 points. The gauge decreased 0.2 percent this week.
After December 1's momentum, oil and gas stocks such as PetroVietnam Drilling and Wells Service (PVD), PetroVietnam Technical Services (PVS), PetroVietnam Drilling Mud (PVC) PetroVietnam Coating (PVB) all slipped between 0.8 percent and 2.2 percent.
The largest oil stock PV Gas (GAS) was also down 0.9 percent. Only Petroleum Equipment Assembly & Metal Structure (PXS) gained marginally.
According to Tran Hai Yen, a stock analyst at Bao Viet Securities Co, increases in global oil prices in recent days were a short term reflection and in the long term, oil prices would still depend on demand and supply, especially on demand which is volatile and unpredictable.
"In addition, the compliance level among OPEC members is also a factor which should be kept in mind," Yen wrote in a note.
"Prospects for oil and gas stocks therefore need more time to be observed to have better analysis," she added.
On the other end of spectrum, financial, steel and realty shares continued their upward movements and cushioned the market.
Gainers included Vietcombank (VCB), Military Bank (MBB), Sacombank (STB), HCM Securities Corp (HCM), steelmakers Hoa Phat Group (HPG), Hoa Sen Group (HSG), Tan Tao Investment Industry (ITA) and Kinh Bac City Development (KBC). All were among the top 30 shares by market capitalisation.
Overall market conditions were negative as the number of losing shares outnumbered gaining ones by 232-170. 292 stocks closed flat.
Liquidity increased slightly with nearly 179 million shares worth 3.5 trillion VND (154.2 million USD) traded in the two markets, up 3.2 percent in volume and 9.4 percent over the previous session.
Foreign sectors continued to offload local shares on the two exchanges, responsible for a total net value of 142.6 billion VND. They focused sells on large-cap stocks as their most-sold stocks were the 10 highest valued stocks on the HCM Stock Exchange.
Vinamilk (VNM) again topped the list with net sell value of over 55 billion VND.