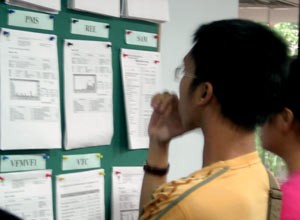 Investors have new choice between short sale and buying on margin. (Photo: T.C)
The Securities Law, which has just been passed by the National Assembly, is going to come into effect on January 1, 2007, allowing brokerage firms to offer securities short sale service.
This move promises to boost the market development as it will increase capital turnover and stocks' liquidity for shares and funds.
With short sale, investors sell securities which are lent by brokerage firms, and can buy back the same amount of shares to repay at some point in the future.
In Viet Nam, the practice has not yet been officially conducted but has appeared under other services as repurchase agreement (REPO), which shares many similar characteristics.
The recent market showed an enormous demand for this kind of practice and almost all brokerage firms have offer REPOs to investors.
Moreover, investors are not only allowed to borrow securities to sell but also able to borrow money from brokerage firms to buy securities, which is "buying on margin" in technical terms.
Investors can open a margin account that required an initial margin requirement (varying from 30 – 100% of the purchase price).
It cannot be denied that the short sale or margin buying is risky for investors and cause negative impact on the market.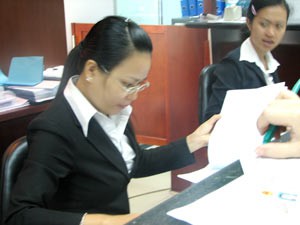 Securities firms must buy "professional responsibility" insurance as a protective barrier for them and investors. (Photo: T.C)
However, in the process of open-up the financial services market, these practices are indispensable to protect the investors' interest as well as professional brokerage institutions'.
The new Securities Law permits these practices but firmly ties the responsibility of brokerage firms to their investors.
Companies must buy "professional responsibility" insurance or set aside a reserve fund to meet unexpected damage that occur.
The margin requirement also serves as a protective barrier for participants.
For instance, a company lends investors 50% of the purchase price. If the stock price falls, which means the equity of the account (value of the securities less the money owed) decreases, additional cash from investors will be required to keep it stay above the margin requirement (maintenance margin) or else the brokerage firm will sell the securities (even at a loss) to protect itself and investors.
Initially, market regulators and brokerage firms need to update the investors' knowledge on these new services, and study a way to use them, which is safe for the market as they can easily amplify the demand and supply
Related Articles:
New Regulation on Sacombank's Stocks Purchase
Bank Stocks Appealing to Investors
Securities Law Due To Be Passed