The opening day of this week saw a great number of small caps gaining prices at the Ho Chi Minh Stock Exchange, pushing the VN-Index up 0.6 point to 1,105.21.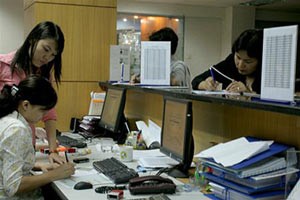 Many investors seem to be keen on selling big caps to buy small potential ones.

Up north, the Hanoi bourse put in an even stronger performance and sent the HASTC-Index up 8.58 points to close at 370.75.

The small cap Binh Dinh Minerals (BMC) caught investors' attention as it rose limit up and had over VND52 billion worth of shares changed hands today.

Other small caps including Bim Son Packaging (BPC), Binh Trieu Construction and Engineering (BTC), Chang Yih Ceramic (CYC), Dong Nai Plastic Construction (DNP) also put on a better performance and rose limit up.

Most notable were Lafooco (LAF), Vinafco (VFC) which doubled their prices over the last month.

Meanwhile, big caps had a gloomy day as Vitaco (VTO) cast off VND3,500, FPT Corporation (FPT), Sudico (SJS) slid VND3,000, Schenker-Gemadept Logistics (GMD) fell VND2,000 and Sacombank (STB) dropped VND500.

Today's session closed with 35 winners among the total 65 stocks. Most investors seemed to be keen on selling big caps to buy small potential ones. This is a common trend among inexperienced investors which is not expected to last long.

The Hanoi bourse also saw the same trend with sell orders of small caps reaching hundreds of thousands in today's session. Yet big caps including Asia Commercial Bank (ACB), But Son Cement (BTS) and Bim Son Cement (BCC) only gained a little or lost prices.

It was a good day for stock market since most transactions were carried out swiftly. However, the continuous price increase of small caps may leave some risks to investors in the future, experts said.