At the annual general meeting of brokerages this year, the questions that shareholders asked the most is whether losses from the core business will continue to be incurred in the upcoming time and how the firms will manage to survive the bearish market.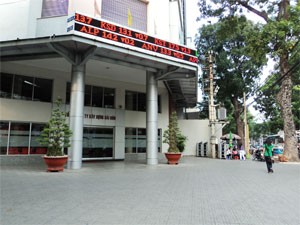 Most brokerages are suffering heavy losses due to the slumping market and some will likely to go bankrupt, experts warn (Photo:Minh Tri)
Statistics show most securities enterprises have been suffering heavy losses from the slumping stock market since 2008, including Vina, Mien Nam, Navibank, Thanh Cong and Nam An.
In the last three years, Mien Nam Securities Corporation lost more than 50 percent of its registered capital of VND40 billion (US$2 million), while the bearish market wiped out nearly 70 percent of brokerage Vina's registered capital of VND185 billion.
Securities company Navibank followed a similar pattern, losing 60 percent of its registered capital of VND35 billion.
Financial experts said those securities firms will likely to go bankrupt if the stock market remains in the losing streak this year and their shareholders continue to refuse buying more shares to keep them alive.
Even some brokerages with large market capitalization including Kim Long, Saigon Securities Incorporation and Bao Viet are also struggling with the bearish market.
Established in 2006 with a registered capital of VND18 billion (US$863,000), securities firm Kim Long soon became popular among stock market players. Its capital was raised to VND2.03 trillion ($97 million) early last year.
However, the slumping stock market has forced a Hanoi-based brokerage to consider on giving up its stock brokerage business to shift its capital towards other sectors.
The company held a shareholders' meeting last month, seeking approval to stop providing securities services and switch its business to property, computer trading, and some other areas.
Analysts and stock investors followed the case closely because Kim Long is the first major stock brokerage firm that plans to withdraw from the service.
"The firm's brokerage services including stock trading consultancy, guarantee of stock issuance and proprietary trading have made no money amid the plunging stock market," said chairman Ha Hoai Nam.
"Despite having VND1.8 trillion in cash, we dare not to invest in the market, which has been very quiet so far this year," Nam told Dau Tu Tai Chinh Newspaper.
However, after failing to gather enough shareholders at its meeeting last month, the brokerage will have to wait up to one month to know whether it can proceed with a plan to exit the brokerage business.
Not enough shareholders turned up at the meeting to make up the quorum of 65 percent of stock owners. The shareholders present at the meeting together held just 33.15 percent of the total shares, local news website VnExpress reported.
Kim Long is now required to organize a second meeting within the next 30 days and it has to secure a quorum with stockholders representing at least 51 percent of the total shares.
Twenty of 105 brokerages in the country posted losses last year. Kim Long lost nearly VND180 billion ($8.6 million). The poor performance has been attributed to the market decline.
The Ho Chi Minh Stock Exchange's VN-Index, the country's major index, edged up 0.08 percent, or 0.4 point, to close at 461 points on April 15th.
Vietnam's stock market was Asia's third-worst performer in 2010 as the VN-Index sank 2 percent while the MSCI Asia Pacific Index climbed 14 percent.
The index rebounded at the beginning of this year as expected. However, it plunged again on inflation concerns. The gauge has lost 5.5 percent so far this year.