Many state-owned giant corporations still carried out their initial public offering (IPO) as scheduled this year despite the plunging stock market. However, most of them went public quietly, without making promotion packages for the sales.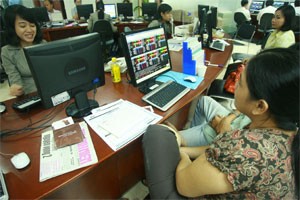 Despite the plummeting market, many state-owned companies still carry out their equitization plan as scheduled this year (Photo:Minh Tri)
Vietnam Steel Corporation, the country's biggest steel manufacturer, carried out an IPO on June 10th, selling nearly 10 percent stake. The auction is the largest IPO so far this year.
The Hanoi-based steel giant, also know as VNSteel, sold over 39 million out of 66 million shares they had offered at the price of VND10,101 per share.
The government retains around 90 percent stake in the Hanoi-based company after the share sales and is expected to reduce it to 65 percent at a later stage, which is expected to be carried out at the end of the year.
VNSteel will sell shares to its strategic partners after the last stage in order to raise its registered capital to VND8 trillion (US$400 million).
Analysts expect VNSteel would still be content with the result of the IPO, in which, for the first time ever in Vietnam, no one registered to buy nearly 50 percent of the offering amount of shares before the auction took place.
Brokers also say only around 300 investors attended the event since VNSteel did not make promoting packages for the IPO.
Despite the unexpected IPO, the board of directors of the steel manufacturer remains quite confident about the next sales, of which it will offer 15 percent stake, an equivalent of 120 million shares, to four strategic partners.
Japan's Nippon Steel, US's Evraz Group, Russia's Novolipetsk Steel and another Japanese firm Itochu are among foreign steel giants expected to partner up with the Vietnamese manufacturer.
State fuel distributor Petrolimex has said it plans to go public next month by selling 27.43 million shares, equal to 2.56 percent of its registered capital of VND10.7 trillion ($512 million).
The Hanoi-based company plans to release its prospectus in the first week of July, and hold an investor road show from July 12 to July 15, Bloomberg quoted deputy general director Vuong Thai Dung as saying.
Dung said Petrolimex would carry out the IPO despite the bearish stock market as the company wanted to be quickly upgraded to a joint stock fuel group.
The company will propose a minimum starting price of VND15,000 per share, which is subject to approval from the Ministry of Industry and Trade, he said in a telephone interview with Bloomberg Monday.
Brokers say the amount of shares offered in the IPO is very small as Petrolimex plans to please its shareholders with the auction as scheduled, but still want not to sell too many shares at low prices due to the gloomy market.
The Ho Chi Minh Stock Exchange's VN-Index has declined 10.9 percent this year on concerns that higher borrowing costs will crimp corporate earnings and economic growth.
Mekong Housing Bank announced that it achieved approval from the State Bank of Vietnam to carry out an IPO with the minimum starting price of VND11,000 per share. The HCMC-based lender did not say the time of the auction.
Mekong Housing Bank is set to sell 31.9 percent of its registered capital of VND4.5 trillion ($225 million).
However, analysts remain pessimistic about the equitization plan as share price of many listed lenders are traded below VND9,000. "That is why Mekong Housing Bank hesitates to announce the date it goes public," said a broker from a HCMC-based securities firm.