HCM City Stock Exchange, VN-Index, began the year at 928 points but ends 2008 around 300 points. Over the year the value of market capital decreased from $30 billion to $12-13 billion, equivalent to 17% of the nation's GDP. VN-Index lost nearly 70% of its value.
Injection of money into preferential stocks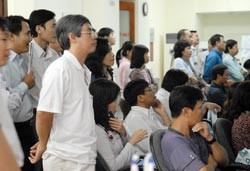 Concerned investors look on as stocks continue to fall sharply.
Many people have regretted buying preferential stocks.
At the end of 2007, N.M.C., who works in a foreign company and wishes to remain anonymous, spent VND50 million ($2,900) to buy stocks. After a short time, he sold these at a profit. With help from his friends he bought preferential stocks in many companies. Using life savings and a loan, he bought shares valued at VND300 million ($17,000).
Today, his shares are worth around VND10 million ($573), each month his salary goes to paying interest for the loan he used to buy shares.
He feels discouraged and will have to wait some years before he recoups his start-up capital.
Many 'hot' shares closed down compared with the beginning of this year. Shares in Sacombank dropped VND45,000 ($2.57) to end the year at VND20,000. Vinamilk halved its value, with shares currently at VND82,000. FPT was a massive loser, beginning the year at VND220,000 ($12.60) collapsing to VND50,000 ($2.87). These falls was reflected by most companies.
The Vietnamese stock market continues in free fall.
Many investors, professional and non-professional, have lost money over 2008.
Many people have used savings to buy stock but with such losses most will keep their shares to receive dividends at the end of year.
AS with the example of N.M.C., many people borrowed to buy stocks and are now left with little more than interest repayments.

During the hot growth of the stock market in 2006- 2007, investors made easy profits from securities investments but the Vietnamese stock market developed too fast. Most investors have lost money making the Vietnamese stock market the world's worst performer this year.
Investors continue to worry about Bong Bach Tuyet Corp., which has made losses this year, and the role of financial authorities. The State allowed the stock market to develop too fast without implementing effective regulations and oversight.
Nguyen Son, Head of the Market Development Department under the State Securities Commission said a lot of people wanted the Commission to intercede in the market, which has fallen for the last nine consecutive sessions. Investors are concerned foreigners will withdraw money from Vietnam's stock market, he adds.
Without any effective regulation in the market, foreign investors have been discouraged and sold large amounts of shares bringing down the market.
Le Vu Nam, a share-dealer, said many companies would give good dividends at around 40%. However, investors still need to be wary and research companies before they buy shares.
According to Mr. Nam, people should invest in the high value stocks or invest in stocks worth less than VND10,000 ($0.57). If the market recovers, all shares will rise. However, the second way carries risks as low-priced companies have a greater chance of bankruptcy.
Financial authorities have to provide clear and exact information to investors in order to win back investors' confidence, he said.
Once investors' confidence is recovered, the stock exchange will recover.