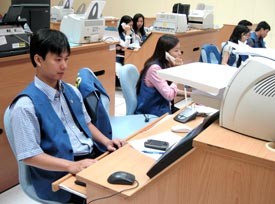 Brokers of securities companies will have more time for put orders to trading system. (Photo: T.C)
As planned, Ho Chi Minh City Securities Trading Center (HSTC) will have 3 price-matching phases per session from June 15, instead of two.
The market is to open from 8:40 AM on weekdays (except holidays). The first price-matching phase of a session consists of 20 minutes and the other two will have 30 minutes.
This expanding is warmly welcomed as the current trading system is overloaded by enormous amount of buying and selling orders.
Besides, the Ha Noi bourse (Ha Noi Sercurities Trading Center – HASTC) is going to hold 5 sessions per week similar to that of Ho Chi Minh City.
Currently, the HASTC is limited to 9 – 11 AM on Monday, Wednesday and Friday.
The increasing of trading sessions will improve its stocks' liquidity and meet the demand of investors.
Related Articles:
Attractiveness from The Ha Noi Bourse
Securities Trading Department To Take Form in Ho Chi Minh City
Related Links:
Ho Chi Minh City Securities Trading Center (HSTC)