On the first session of the lunar new year on January 2, a series of blue chips posted gains pushing the VN-Index up to surpass 700 points while SJC gold price increased nearly VND1.4 million to near VND38 million per tael.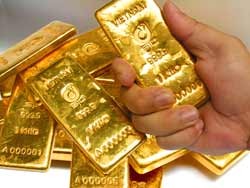 SJC gold bullions
Before the session closed, the VN-Index increased 5.9 points to 703.18 points with 158 shares up, 76 treating water and 90 down. The VN30-Index edged down 8.19 points to 652.98 points with 22 stock codes edging up, one stationary and seven dropping.
 
 
In Hanoi bourse, the HNX-Index soared 0.18 points to 84.64 points with 99 shares gaining, 203 stable and 78 dipping. The HNX30-Index declined 0.62 points to 150.74 points with 18 shares losing, six unchanged and six soaring.
 
The country's third bourse VNX All-share saw an increase of10.73 points to 981.28 points.
 
The liquidity in the session was good with total transaction value in the market topping VND2.3 trillion (US$102 million)
 
SJC gold bullion price rocketed to near VND38 million a tael.
 
At 5 p.m. in HCMC, SJC company bought a tael at VND37,43 million and sold at VND37.83 million, up VND1.33 million and VND1.03 million compared to the prices before the Tet.
 
Doji Company posted buying and selling prices at VND37.5 million and VND37.8 million, increasing VND700 and VND500,000 at the same time in Hanoi.
 
On Asian Kitco, the selling and buying price turned around US$1,221.4 and $1,222.4, equivalent to VND33.9 million a tael which was VND4.1 million lower than local gold prices.
 
US dollar prices approached VND23,000 a dollar on the first working day after the Tet holiday. Banks hiked the VND to USD exchange rate by VND40-60 per dollar.
 
Vietcombank posted the price at VND22,620 a dollar in purchase and VND22,690 in selling. In the free market, the price was swinging around VND22,920 and VND22,980.