Due to the constant decline of the stock market, a large number of investors have begun to sell their stocks in fear of losing more of their capital. There are others who continue to buy shares in the hope that when the stock market revives they will make sizeable profits.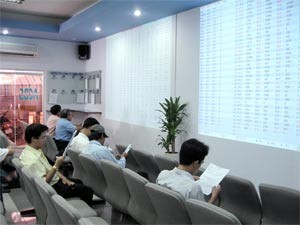 Fewer investors appear on the bourses to avoid seeing further decline of the stock market (Photo: Uyen Phuong)
In contrast to expectations, the stock market continued to free fall after the Lunar New Year. The red color on the electronic boards has discouraged investors from the share trading floors as the sight of perpetually falling stocks is too disheartening.

Witnessing such gloom on the stock market, many share holders sold their stock in fear of greater losses to come.

Prior to this unexpected slide in the stock market, many investors had used their shares as collateral against loans from local banks to further invest in the stock market.

Unfortunately, as share prices are continuously declining, investors have been forced to sell some of their stocks to repay the loans in an effort to prevent the lending banks repossessing their shares. This has put further pressure on the already-sluggish stock market.

Nguyen Quy Quynh, a veteran shareholder who has been following the stock market's every move since its establishment, has done a totally unexpected thing.

He bought 20,000 shares of Sacombank (STB) at VND52,000 (US$3.25) last week and continued to buy more shares on subsequent days.

According to him, there are many reasons to hope for a better future on the stock market. The country is enjoying steady economic growth and most of the listed companies are doing well. Liquidity in stocks remains high from VND500-600 billion (US$34.3 million) to VND2,000 billion (US$125 million).

The Government is putting efforts into reviving the stock market, aiming for more stable development in the future. Therefore, it is very likely that the stock market will regain its strength during the next six months, pushing share prices up by 30 to 50 percent, he said.

Investors are being encouraged to stay calm while waiting for positive signals from the stock market. Many companies have announced that they will pay dividends in the form of shares in order to maintain confidence in the stock market. This approach has been approved by many shareholders.

The door to success is still open especially to those who are experienced and patient enough to remain in the game through this difficult period.