The VN-Index rose by 12.49 points to 1,097.36 at the Ho Chi Minh Stock Exchange on Tuesday as 14 million shares were traded for VND1.2 trillion.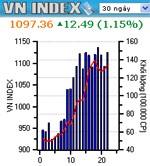 The VN-Index rises by 12.49 points to 1,097.36 on Tuesday

Having gone limit up the previous session, Sacombank (STB) added VND3,000 to close at VND74,000 on the back of a profit exceeding VND1 trillion for the first three quarters of 2007.

Similarly, Hapaco (HAP) put on VND3,500 to rise limit up after buy orders for more than 500,000 shares were placed.

Recent worries slipped away as investors rushed to pay more for blue chip stocks like FPT Corporation (FPT), Vietnam Electricity Construction (VNE), Kinh Do Food (KDC), REE Technology (REE), Petro Vietnam Drilling and Well Services (PVD) and Tan Tao Industrial Zone (ITA).

Newly listed stocks got a warm reception too. Vitaco (VTO) shareholders only released 1,000 shares as the stock went limit up, leaving most of the would-be buyers empty handed. The original prediction was for a buying volume of 2.27 million shares.

Much the same happened to Vung Tau House Development (HDC) and Can Tho Technical and Material (TSC).

In the other direction, Vincom (VIC) and PetroVietnam Tourism and Service (PET) were losers on the day.

Despite the news of its gaining a license for the Eden Department Store project in District 1, VIC ended the session VND9,000 down from the previous closing price.

For PET, which closed at VND90,000, it was the third successive down day.