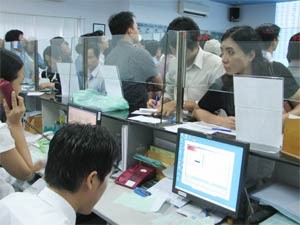 More investors register to purchase shares as the stock market rises again.(Photo:TC)
The VN-index continued to rise strongly this morning session and closed at 1,015.43 points, a remarkable increase of 31.81 points, or 3.23%, above the previous close.
In all, over 5.9 million shares changed hands for VND666.5 billion. 90 of the total 110 stocks rose dramatically, including SJS, FPT, DHG, PVD and SAM, only seven stocks fell and 13 remained unchanged.
Blue chips such as FPT, DHG and SAM increased sharply, up by VND13,000, VND12,000 and VND10,000 respectively.
STB led the market in terms of liquidity and trading volume as there were 706,620 shares changing hands at over VND101.7 billion.
The index in Ha Noi's bourse at the end of this morning session also rose by 4.05 points to close at 331.2. The market trading volume rose to 1.5 million shares, worth VND184.3 billion.
Non-stop trade shift delayed
The HSTC will not begin continuous order matching as planned because newly established securities companies do not have the proper technologies to work within the new structure.
Director of the center Tran Dac Sinh told a local newspaper that the new matching form would be delayed but did not specify the new deadline, only saying that it would be put in use as soon as possible.
Mr. Sinh also said more training would be offered to help investors understand the new order matching form, which is more complicated than the timed matching one.
At a recent meeting between his center and 45 securities companies in Ho Chi Minh City, only twelve of them said they were ready for the new development.
Previously, the center announced it would launch an automatic order matching session beginning yesterday while maintaining two time-order matching sessions. Time-order matching would establish opening prices in the first session and set closing prices in the third session while automatic order matching would operate in the second session.
Today's winners and losers