The sudden surge of stock markets in the U.S and Europe on Tuesday has helped to boost confidence in trading on the stock market yesterday, pushing the VN-Index up by 5.19 points to close at 643.9.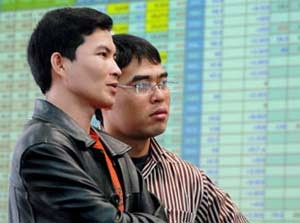 Investors begin to buy in right after the stock market shows signs of revival

Saigon Securities (SSI) and Sacombank (STB) had the most sell orders yesterdasy. The two shares were soon sold out to investors and rose limit up in the middle of the session.

Phu My Fertilizer and Chemicals (DPM) also enjoyed a large number of buy orders which contributed to the recent recovery of the stock market.

Caps and blue chips also reversed course to gain more weight yesterday. FPT Corporation (FPT) and Petro Vietnam Drilling and Well Services (PVD) rose VND3,000. Vinamilk (VNM), Pha Lai Thermal Power (PPC) and Kinh Do Food (KDC) climbed VND2,000. While Hoa Phat (HPG) gained VND1,500 and HATIEN 1 Cement (HT1) was up by VND900.

Chau Thoi Concrete (BT6) has continuously risen over the last few days exceeding investor's expectations.

Meanwhile, other big companies like Vinh Son Hydropower (VSH), Saigon Cables & Telecommunication Materials (SAM) and Sudico (SJS) went against the common trend and headed south.

The stock market has been showing positive signs with an increasing trade volume and the recovery of many listed shares.

The total trading volume yesterday at the Ho Chi Minh Stock Exchange reached 13 million shares and 5.14 million shares at the Ha Noi Securities Trading Center.