The VN-Index shed 28.6 points to close at 635.24 at the Ho Chi Minh Stock Exchange today.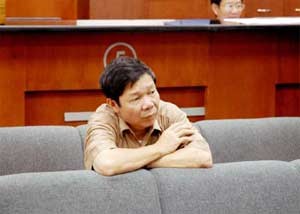 Many investors begin to stay away from the electronic boards to avoid seeing any further decline of the stock market 
In Ha Noi, the HASTC-Index dropped 14.02 points to end the session at 214.22, its lowest level in 15 months.

Numerous suggestions have been made as to how Viet Nam's stock market slide can be arrested but naught has come of them and a gloomy sentiment prevails day after day.

As the country's main stock market index continues on its trek southward, many previously active investors and speculators are staying away from the electronic boards as the sight of perpetually falling stocks is too disheartening.

Today was no exception, and few members of the public bothered to attend the exchange or hang around their broker's.

Of the 153 stocks listed on the southern bourse, 149 lost ground today, 130 of which dropped limit down. In all, more than ten million shares changed hands in another day of heavy trading.

With only two stocks actually gaining, a sense of panic was evident as the bears offloaded more of their shares.

In the latest PE (price earnings ratio) indicator just released by the Ho Chi Minh Stock Exchange, many listed companies have dropped below ten, which in other circumstances would make them look like bargains. Not here though, as their PE's are widely expected to decline even further tomorrow as their share prices plummet.