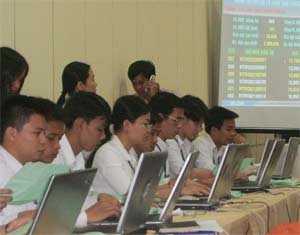 Most investors these days decide to wait for the stock's rally rather than to purchase more shares. (Photo:TK)
The VN-Index fell again this morning to close at 931.18 points, down 37.7 points from yesterday's session.
Of the 110 stocks listed on the Ho Chi Minh City Securities Trading Center, 92 lost ground, a dozen trod water and only six gained.
Oversupply last weekend caused the market's total trading volume to fall by 38% from Sunday to 3.37 million shares changing hands for VND421 billion.
Among the losers were blue chips like FPT, STB, PVD, REE, SJS, VNM and VSH, which all fell below the 5% reporting limit.
STB led the market in terms of trading volume with 572,720 shares traded while REE saw the greatest trading value with VND117 billion.
The investment funds PRUBF1 and VFMVF1 dropped 0.1% and 1.07% respectively to close at VND13,800 and VND32,800.
Many analysts reckon the strong fall yesterday signaled further recession and are tipping an even deeper plunge by the market tomorrow.
Mai Linh listing
The Ho Chi Minh City-based Mai Linh Corp. is set to issue some five million shares valued at VND50 billion to finance business expansion in the years to come.
The issue, which is divided into three stages, is expected to scale up Mai Linh's chartered capital to VND168 billion from VND6.8 billion.
In the first stage, some 168,000 shares will be issued to existing and new shareholders. The corporation is in the process of initiating the next issue but has yet to announce a timeframe.
Mai Linh says it will use the mobilized funds for a number of projects including an I-Mark Salon, an auto supermarket and an auto spare parts mall in District 12.
Established in 1993 as a taxi service, Mai Linh Corp. now views itself as a tourism, trading and construction group. It plans to list on the Ha Noi bourse early next year, one year later than originally planned.
Today's winners and losers