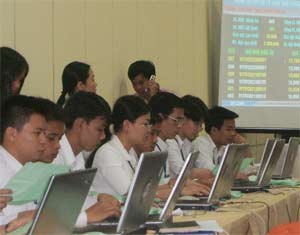 Investors investigate the market information for the forthcoming sessions. (Photo:TK)
The domestic stock markets yesterday continued their downward trend, down 7.1 points to 1027.58 in Ho Chi Minh City and 10.68 points to 394.13 in Ha Noi.
The Ho Chi Minh City Securities Trading center yesterday witnessed 93 of the 109 stocks lost while only four, including major blue chips like FPT, KDC, BMP and VSH, rose by 3%. However, volume and turnover increased strongly to 3.5 million shares and VND531 billion (US$33 million), or 33% and 44% over the previous session.
REE shares continued to lead the market both in terms of trading volume and turnover with 603,200 shares traded for VND145 billion, accounting for 16.53% and 27.29% respectively of the total market. Foreigners were again net buyers investing VND101 billion in 687,120 shares focusing on blue chips like VNM and VSH.
Market analysts forecast that the market would shed slightly in forthcoming sessions due to low demand among investors. They also called the market nosedive which began last month as 'recession' like, saying it was inevitable since stocks had continually risen since late last year. A huge supply of stocks is to list on the market in the coming months, contributing to oversupply the bourse, and cool it down.
Meanwhile, Ha Noi saw 1.2 million shares traded for VND171 billion, increasing by 20% in both value and turnover.
Commercial Banks Under Stricter Rules
The State Bank of Vietnam has adopted stricter rules for commercial banks planning to scale up their capital via share issues. Accordingly, commercial banks must publicly clarify their share-issuing plans and their demand for funds and purpose of use.
Lenders must also make public estimated business efficiency in terms of estimated profits and dividends based on real performance over the last three years. They are also required to announce detailed plans of increasing capital that include the method and timelines.
The State Securities Commission has issued a document urging public firms to conform to the Securities Law when issuing shares to increase chartered capital or fund their projects. The share volume issued to the staff must not be higher than 5% of capital, and the issue must be approved by shareholder meetings.
Banks intending to increase their chartered capital this year include the listed Saigon Thuong Tin Commercial Bank (Sacombank) to VND4.4 trillion ($274 million) from VND2 trillion and Vietnam's Technological and Commercial Bank (Techcombank) to VND2.7 trillion from VND1.5 trillion.