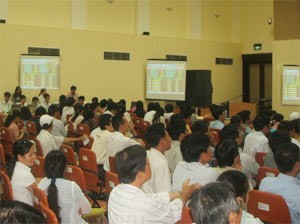 The domestic stock market today' session witnesses more observers than buyers and sellers. (Photo:TK)
The VN-Index dropped 4.99 points, or 0.48%, to close at 1,034.7 points today.
Only 3.17 million shares changed hands, for VND368 billion, at the Ho Chi Minh City Securities Trading Center this morning. Well over half the listed stocks fell, 64 in fact, while 23 rose and 22 marked time.
On Tuesday, the VN-Index closed at 1,039.67 points. On that day more than 6.14 million shares and VND692.55 billion changed hands, nearly double today's figures. It was still a down session though as 48 stocks fell in price, 29 went up and 32 were unchanged.
When the stock market was described as overheated a few months ago, even companies that were performing poorly business-wise were seeing their share prices surge to record highs. Not so nowadays, as share turnover has been comparatively small and investors decidedly more bearish.
Market experts believe that the stock market is making a perfectly normal adjustment now that the dividend payment period has finished and the State Securities Commission and the State Bank of Viet Nam have tightened their control over share issuance.
Today's winners and losers