Analysts and investors are predicting another bumper year for Viet Nam's stock market.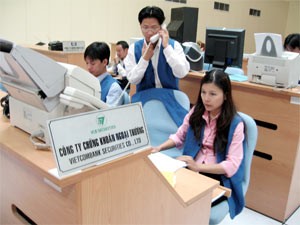 Analysts and investors believe that Viet Nam's stock market will grow even more this year than last (Photo: T.C.)
Nguyen Hoang Hai, secretary general of the Vietnam Association of Financial Investors, says investors have great expectations of the securities market and Vietnamese firms so if more of the big general companies start listing, the stock market will thrive.
 
Looking at the equitization schedule of state-owned general companies and the capital-raising plans of banks and joint-stock companies, it seems certain that the supply of new shares will increase greatly this year, says Dang Quang Anh, a securities investor.
 
He believes that the general public will commit vastly greater amounts of money to shares and reckons every family and every family member is keen on stocks and eager to jump on the bandwagon.
 
There's no way the number of foreign investors will decline, he adds. More foreign money will go into the stock market this year than last as many of the big state-owned corporations get listed, and more foreigners will try to shove their way into the market.
 
Of course it is inevitable in this climate that some stocks are getting way overvalued, but many companies are realizing this and attempting to create new value to make their share prices appear more realistic, says Anh.
 
Tran Dac Sinh, director of the Ho Chi Minh City Securities Trading Center, is another who believes that Viet Nam's stock market will grow even more this year than last, not just in terms of quantity but quality too.
 
Securities services will be enhanced to meet the growing demand for shares, he says, market management will be improved to make the market more transparent and fair, and new financial polices will stabilize the market and attract long-term foreign investment.
 
Bui Viet, general director of the East Asian Bank Securities Company, says superior stocks and more local and foreign investors will keep pushing share prices higher this year.
 
He points out that people no longer keep gold and US dollars or invest in real estate, preferring shares instead. Many people consider securities a long-term investment and have high hopes for their future; they don't just buy shares for a quick profit.