The stock market enjoyed another good day, but growth was slower than yesterday. The VN-Index rose 3.7 points to close at 647.6.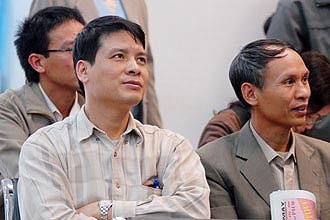 Investors rejoice to see another good day for the stock market

In Ha Noi, the HASTC-Index also gained 2.1 points to end the session at 227.51.

The stock market is step-by-step regaining its stability. Many listed shares continued to receive more attention from investors.

Although the trading volume for Sacombank (STB), Phu My Fertilizer and Chemicals (DPM) declined compared to yesterday, the two shares still managed to gain in value. STB climbed VND200 and DPM VND500.

Vinamilk (VNM), Schenker-Gemadept Logistics (GMD), Tan Tao Industrial Zone (ITA), Petro Vietnam Drilling and Well Services (PVD), Vinpearl Tourism and Trading (VPL) and Kinh Do Food (KDC) rose VND1,000 to VND2,000.

FPT Corporation (FPT) and REE Technology (REE) remained at their reference prices despite a sudden surge in sell orders at the end of the session.

Shares of Saigon Securities (SSI) and Viet Nam Petroleum Transport (VIP), both with charter capital exceeding VND300 billion (US$18.75 million), both increased by the maximum allowed market rules.

SSI was a phenomenon in today's session. After suffering from some bad rumors, the stock revived after a report of better performance and gained VND3,500.

SSI was the most-traded stock with a volume of 1.65 million, 60 percent higher than DPM, the second most actively traded share.

SSI trading value this morning was VND135 billion (US$8.43 million) which is equivalent to the trading value of STB, DPM and Lideco (NTL) combined.

Upcoming earnings reports and a surge in stock market prices worldwide will surely help the local companies enjoy further growth in near future, according to many observers.