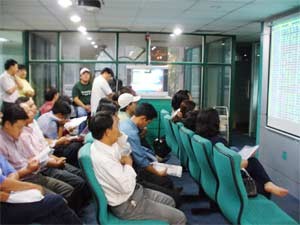 The stock market's recent fluctuations leave investors worries. (Photo:TK)
By the end of today's session, the VN-Index fell again to close at 1040.99, a strong decline of 13.7 points or 1.04%. In a repeat of yesterday's stagnant trade, just 4.9 million shares changed hands for VND711.7 billion.
Only 15 of the 109 stocks climbed, while 67 fell and 27 remained unchanged. The big movers responsible for the higher index reading were blue-chip stocks, with BMC up by VND34,000, TCT by VND8,000, SJS by VND7,000, SGH by VND5,000 and FPC by VND3,500.
Among the losers were blue chips like FPT, ALT, VNM, DHG, NAV, which all but ALT fell below the 5% reporting limit.
Ha Noi's market this morning went flat when decreasing 2.52 points to close at 334.58. The market saw 58 of the total 86 stocks falling while others 12 increased. Total trading volume on the market was more than 1.1 million shares, worth VND150.2 billion.
Many analysts reckon the strong fall yesterday and today signaled further recession and are tipping an even deeper plunge in the next few days.
HSTC has new name
Prime Minister Nguyen Tan Dung has recently given the green light to change the name of the Ho Chi Minh City Securities Trading Centre to the Ho Chi Minh Stock Exchange (HOSE).

With an initial chartered capital of VND1 trillion (US$62.5 million), the HOSE is entitled to organize transactions for eligible listed companies.
Today's winners and losers