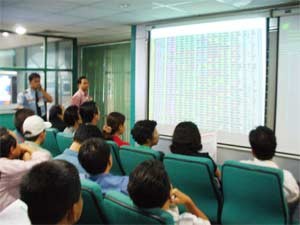 Many investors are more delighted when the stock market shows signs of going up. (Photo:TK)
The VN-Index today surpassed the 1,100 level to close at 1,107.52 points this morning, a hefty rise of 22.11 points (2.04%) on the previous session, which was in line with the experts' prediction.
An impressive 90 of the 109 stocks climbed dramatically, including SJS, DHG, PVD, NAV, and SFI, while only seven stocks fell and 12 remained unchanged.
This morning saw the highest trading volume in the past two months when more than 7.5 million shares changed hands for nearly VND983 billion.
Blue-chip shares increased sharply, with SJS up by VND21,000, DHG by VND14,000, PVD by VND12,000, NAV by VND11,000 and SFI by VND10,000.
The biggest stock by market cap, STB, rose by VND7,000 and led the market in terms of liquidity and trading volume.
Real-time matching to be official
The Ho Chi Minh City Securities Trading Centre (HSTC) will officially begin continuous order matching on June 4, general director Tran Dac Sinh told a local newspaper.
He said that the real-time order matching applied since May 18 on a trial basis was going smoothly, paving the way for the official application of the scheme from early June.
Mr. Sinh said the bourse would delay the date of applying the scheme for large-lot transactions (100-share lots instead of 10-share lots) until January 1, 2008.
Previously, the non-stop order matching scheme was delayed twice because of slow preparation.
Today's winners and losers