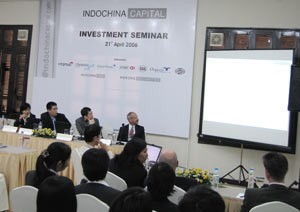 Financial pundits predicts a surge in share buying by foreigners late this year. (Photo:TC)
Tuesday's session saw gains by 32 of the 50 listed stocks, pushing the VN-Index up a hefty 18.49 points to 555.77, the biggest one-day rise since May 25.
Today's trading volume was the highest since October 4, with 3.23 billion shares changing hands for VND210.7 billion. The enormous demand for shares was obvious right from the opening bell.
Five of the climbing stocks reached their legal limit for one day's movement - VNM, VSH, GMD, SAM and SHC.
In fact GMD (Gemadept) closed at a record VND117,000. AGF and BMP also set new highs, rising by 2.7% and 3.8% to VND94,000 and VND96,500 respectively.
Vinh Son-Song Hinh Hydropower (VSH) was the most actively traded stock with 589,780 shares gaining new owners, followed by GMD with 355,620 shares and STB with 275,600.
Foreign institutions and retail investors bought 546,666 shares, their favorites for the day being BMP, BT6, CII, GMD, SAM, TYA, VNM and VSH.
Many financial pundits predicted a surge in share buying by foreigners thanks to the equitization of state-owned corporations and the new, improved regulations governing equitization and the securities market, and they were right.
Mr. Don Lam, general director of VinaCapital, which manages Viet Nam's biggest foreign investment fund, VOF, described the changing circumstances as a "golden opportunity" for Vietnamese and foreigners to buy into the country's stock market.