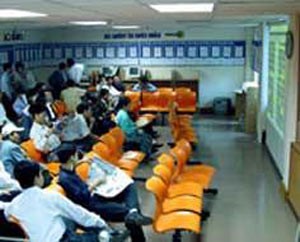 Most investors consider the VN- Index fall as an indespensable adjustment of the market after a long period of overheating.
The VN-Index maintained its downward trend by dropping 16.23 points to close at 1,055.1 this morning.
No analysts and very few investors were surprised by today's fall, which was merely a continuance, if Friday's tiny rally is ignored, of the market's fairly rapid decline over the past three weeks.
While 19 stocks actually managed to go up, 68 stocks fell in today's session including the blue chips AGF, BMP, CII, DMC, STB and VFMVF1. The trading value of VND782 billion was the lowest of the past month.
Analysts attribute the sharp drop to investors restructuring their portfolios in response to the gloomy prognostications delivered at the recent Vietnam Business Forum, and described the decline as inevitable given the overheated state of the local stock market.
The worst day was last Tuesday, when only one stock rose, three held steady, and all the rest went down. In fact, 87 stocks ended the session limit down. The VN Index dropped by 37.92 points, or 3.54%, to close the day at 1,034.24 and return to the level of February 12 well over a month ago.
Surprisingly, the market actually rose on Friday, albeit by a miniscule 2.62 points, or 0.25%.
The market ended last week at 1,071.33 points, down by 19.23 from the previous Friday. It was the third successive week of a declining VN Index.
Today's trading
Related link: