Price fluctuation is normal in every stock market and Viet Nam's market may not recover until the third quarter, said stock market analysts.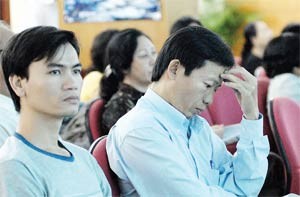 Investors are disappointed as the stock market keeps going further down
The market has dropped so much that it is impossible for it to go down much further, an analyst said. This is a good time to buy in order to make a profit when the market goes up.

The problems in the stock market must be solved as stocks play an important role in attracting capital for many projects and allow state-owned companies to equitize.

Dr. Nguyen Van Ngai, head of the Economic Department of the Ho Chi Minh City University of Agriculture and Forestry explained for the poor performance of the stock market is due to a herd mentality that causes investors to simultaneously buy or sell shares in great amounts. This has deeply affected the stock market's balance, causing it to fluctuate dramatically.

There are three reasons for the gloomy state of the market.

Most domestic investors are not yet able to analyze the market's situation and fail to buy in or sell shares at the right time. The failure of some investors discourages their peers, so the stock market is unable to find new investors. Moreover, the fluctuating domestic and global economies create risk and make it more difficult to increase the demand for stocks.

As long as inflation remains high, the stock market will continue in its downward trek, said Dr. Le Vu Nam of the HCMC University of Economics. Moreover, the sluggish stock market will cause construction to stagnate, domestic business to deteriorate, slow the country's economic growth, and make Viet Nam less attractive to foreign investors.

Therefore, drastic measures must be taken to regain the faith of investors. Inspections must be strengthened to ensure the transparency of the stock market and of trading activities.