The Ho Chi Minh Stock Exchange remained bullish on Tuesday over expectations of a recovery in the economy next year, a HCMC-based broker said.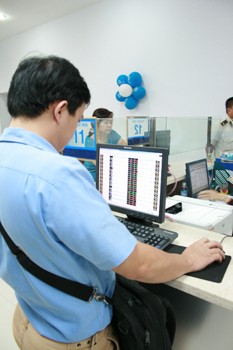 An investor watches share prices updated on his laptop at a HCMC-based brokerage. (Photo: Thieu Gia)
The VN-Index, listing 174 companies and funds, closed at 316.32 points, advancing 2.51 percent, the biggest gain in the last ten trading days.
Most shares rallied, with 129 closing up while 23 fell. The market's liquidity improved, with 15 million shares exchanging hands, compared with Monday's 8.5 million.
"Investors are returning to the market as they believe the government's economic stimulus package will be effectiveness," a broker in a HCMC-based brokerage said.
He also said investor confidence was boosted by positive performance of the market recently.
Vinpearl Tourism & Trading Joint Stock Co. , a resort operator, gained VND3,000, 4.8 percent, to close at VND66,000 ($3.78). Pham Thu Huong, wife of board member Pham Nhat Vuong, bought more than 5 million shares in the company to raise her stake to 8.3 million shares, the company said in a statement posted on the exchange's website.
PetroVietnam Finance Joint-Stock Co., the sixth-biggest stock, rallied for a third day, rising VND700, or 3.7 percent, to VND19,800 ($1.13). Nguyen Dinh Lam, deputy general director of the Hanoi-based financial arm of state-owned Vietnam Oil & Gas Group, registered to buy 20,000 shares within one month, the company said in a statement filed on the bourse's website after market closed yesterday.
Vietnam Container Shipping Joint-Stock Co. advanced VND2,000, or 4.8 percent,  to finish at VND43,600, its first advance in 12 days. The company reported on the exchange's Web site a pretax profit of VND96 billion ($5.5 million) in the first eleven months of the year, surging 41 percent from last year. Sales in the January and November period were VND280 billion ($16 million), a 29 percent increase from last year, the statement said.
Alta Joint-Stock Co. ended five days of gains, falling VND900, or 4.5 percent, to
VND19,000. The company said in a statement posted on the exchange's website that it plans to issue 938,000 new shares. The company did not give any timeframe for the issue.
Construction Joint-Stock Co. No. 5 (SC5) added VND1,000, 4.9 percent, to close at VND21,500. The company said in a statement filed on the bourse's website, after markets closed yesterday, that it has won a contract for a residential project worth more than VND126 billion ($7.2 million) in Vietnam's biggest city.
The smaller market in Hanoi continued to tread water, with the HaSTC-Index of 168 firms edging down 0.06 percent to 105.44 points.