Good news from Vietcombank's stock auction yesterday reheated the market, but the gas apparently ran out today as sell orders by investors trying to recoup losses dominated, causing 101 stocks to lose ground.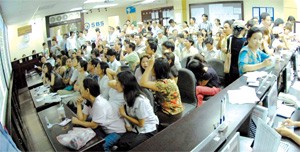 Investors sold lots of shares to recoup losses today
The VN-Index closed at 930.45 points, down 16.33. Up north, a system failure reduced the Ha Noi bourse's trade volume to a pittance and left the HASTC-Index down 3.81 points to 327.24.
 
This morning prices of Sacombank (STB) and Vinamilk (VNM) stocks fell while Phu My Fertilizer and Chemicals (DPM) and Pha Lai Thermal Power (PPC) remained unchanged.
 
FPT Corporation (FPT) lost VND5,000, Saigon Securities (SSI) and PVTrans (PVT) VND4,000, VNM, Hoa Phat Group (HPG) and REE Technology (REE) VND3,000, Vincom (VIC), Tan Tao Industrial Zone (ITA) and Schenker-Gemadept Logistics (GMD) VND2,000, and STB all declined by VND1,500.
 
Most blue chips were in the same boat, with only 16 gaining.
 
On the northern bourse, 80 stocks sagged while 17 made only decent gains.
 
The most interesting big caps, like Asia Commercial Bank (ACB), Bao Viet Securities (BVS), Petroleum Chemical Products (PVC), Petroleum Technical Services (PVS) and Thac Ba Hydroelectric (TBC) all slumped, while newly-listed Kinh Bac Urban Development (KBC) rose to its upper limit.