A sudden increase in buy orders for some stocks turned the market around this morning and allowed the VN-Index to gain 3.54 points, or 0.68 percent, and close the day's session at 519.42.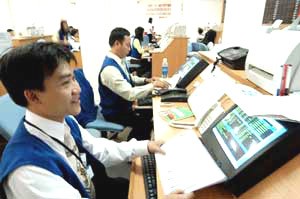 Stock market rallies as a result of a sudden increase in buy orders for some stocks

Phu My Fertilizer and Chemicals (DPM), Vinamilk (VNM), Vinh Son Hydropower (VSH) and Pha Lai Thermal Power (PPC) all rose limit up on heavy buying by mostly foreigners and were the biggest movers responsible for reviving the stock market.

The greatest turnover was again seen by DPM, whose trading volume for the day reached one million shares.

The financials, on the other hand, had another poor time of it with sell orders flooding in. The biggest losers in this sector were Sacombank (STB) and Saigon Securities (SSI), which both dropped limit down.

In the end, half of the listed stocks gained in value, 53 lost ground and ten held steady.

A total of 9,435,000 shares were traded, one and a half times the number in the previous session. The trading value was VND435.047 billion (US$27.19 million).

Up north in Ha Noi, the HASTC-Index also had a better day and added 2.16 points to close at 171.11. In all, 3,569,000 shares were traded for VND135 billion (US$8.4 million).