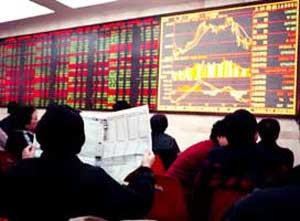 After June 7, when the minimum volume for a securities transaction is 100 shares, small investors who still have small lots will sell them to brokers.
In a surprising turnaround, the VN-Index rose 35.4 points this morning to end the day's session at 1001.12, or 3.67% above the previous close.
In all, 3.9 million shares changed hands for VND446.6 billion. All but ten of the 110 stocks rose dramatically, including FPT, STB, VNM and VSH, five stocks fell and only five remained unchanged.
In yesterday's session, stocks at the Ho Chi Minh City bourse were still out of favor but the VN-Index only shed 17.28 points to close at 965.72. The total trading value was a modest VND606 billion.
The session produced 90 losers, creating a sea of red on the electronic board (among them blue chips like VTC, LAF, SDN, SAF, IMP and HBD).
Bucking the trend, the second biggest stock by market cap, STB, rose by VND3,000 and led the market in terms of trading volume and value.
New rule to ease trading congestion
From June 7, the minimum volume for a securities transaction will be 100 shares instead of ten as now.
The Ho Chi Minh City Securities Trading Center noted that lots of fewer than 100 shares only account for 1% or so of the trading volume yet make up more than 14% of the number of orders entered.
According to a representative of the bourse, the new regulation will alleviate the overloading that sometimes afflicts the brokerage houses. The last time it happened, up to 3,000 orders were placed at several brokers but only 1,000 were entered into the transaction operating system.
"If the minimum unit of transaction is 100 shares instead of 10, there will be 14% more room for more orders to be entered into the operating system, which will lead to an increase in transaction volume," the man from the bourse explained.
Small investors have one more month to buy enough shares so that the new rule will not inconvenience them. After June 7, investors who still have small lots will be able to sell them to brokers, who will determine a price by referring to the closing prices of the previous session.
Today's winners and losers