Ho Chi Minh City stocks bounced back Thursday as large caps, the key drivers in the market, staged a recovery.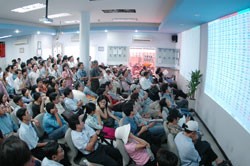 Investors watch the electronic board of stock prices in a trading session.
Trading volumes remained low in the first session of the day, with around 3.6 million shares exchanging hands, as investors were still worried about Wednesday's 10.82 point slump.
But the second session, known as the continuous matching session, saw heavy buying emerge in large caps, pushing up the index.
The VN-Index rose 15.38 points, or 3.4 percent, to close at 470.43. Of the 160 companies and four closed-end funds listed in HCMC, 126 gained and 29 lost.
Among the day's gainers was Saigon Thuong Tin Commercial Bank, which rose by VND1,200, or 4.9 percent, to close at VND25,400. It was the most active stock by volume, with around 1.9 million shares changing hands.
Saigon Fuel Joint-Stock Co. gained VND2,000, or 4.8 percent, to close at VND44,000. Phu Nhuan Jewelry plans to raise its stake in the company to 714,770 shares, or 21 percent, from the current 9.26 percent, by buying 400,000 shares within a month, a Saigon Fuel statement said on the exchange's Web site yesterday.
On the downside, Vinafco Joint-Stock Co. lost VND100, or 1 percent, to close at VND15,000, its lowest level in more than a month. Deutsche Bank AG London sold 100,000 shares to reduce its stake in the Hanoi-based company to 906,593 shares, or 13.38 percent, on September 22.
Dairy Products Joint-Stock Co. lost VND4,000, or 4.1 percent, to close at VND93,000. Dragon Capital intends to pare its stake in the firm to 15.6 million shares, or 8.9 percent, by selling 105,000 shares over the next three months.