The stock market showed sign of revival today after a government decision to buy shares of listed companies through the State Capital Investment Corporation (SCIC), the State Securities Commission (SSC) announced yesterday.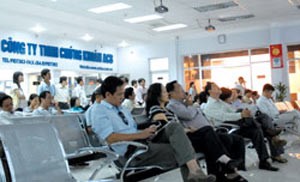 More investors appear on the bourse after the Government's annoucement to buy shares through SCIC
The number of shares to be purchased by SCIC will be determined by its analysis of the stock market, according to SSC Deputy Chairman Nguyen Doan Hung. Only shares from highly-rated companies with high liquidity will be bought, Hung added.

Other recent moves to revive the market include the establishment of an online trading service attached to the Ho Chi Minh City Stock Exchange (HOSE) in June this year and an over-the-counter market on the northern bourse to allow unlisted companies to sell their shares. A total of 840 companies have applied to join the market.

Moreover, suitable adjustments of related laws will be made to allow for better development of the stock market. Investors will be allowed to open more accounts and join the buying and selling processes for a full session instead of only one at the moment.

These changes are aimed at giving investors reason to keep in faith in the stock market and help the market experience more stable development, SCC Deputy Chairwoman Vu Thi Kim Lien said. However, in the end investors will be the ones who determine whether the market will revive, Lien added.

Recent gloom on the stock market has caused many inexperienced share holders to sell more of their stock in fear of greater losses to come.
Meanwhile, veteran shareholders and those outside the country maintained their composure and continued to buy even more shares, hoping to obtain sizable profits when the stock market revives in near future.

Since the SCIC's announcement, the VN-Index has reversed course today, gaining 27.72 points to close at 611.17.

Today's total trading volume reached 28 million shares worth VND 2,559 billion (US$159.93 million), a record for the market.

Thanks to the government's effort, green has returned back to the electronic boards. But most small investors are still hesitating as the recent free fall of the market left a big impression on them.
The demand for shares will increase even more in future, according to many observers. It will take several more sessions for it to overcome this difficult period.

Related article:
Stock Market, A Game Not for Unadventurous Souls