The Ho Chi Minh Stock Exchange ended Monday's session with 72 losers and the VN-Index down 11.33 points to 1,085.74.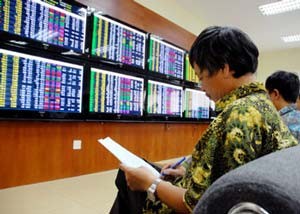 Today's session ends with 72 losers and the Vn-Index down 11.33 to 1,085.74

Up north in Hanoi, the HASTC-Index experienced much the same sentiment and dropped 2.55 points to close at 374.28.

Sacombank (STB), which had made a comeback by rising limit up in the previous session, abruptly reversed course today, losing 2.1 percent of its value as the VN-Index fell below 1,100.

STB had 1.31 million shares traded by the end of the session, while more than 900,000 sell orders went begging.

Other blue chips had a bad day too. Kinh Do Food (KDC) cast off VND6,000, Vinamilk (VNM) dropped VND5,000, Sudico (SJS) slid the same amount, Vincom (VIC) and FPT Corporation (FPT) dropped VND3,000 and Petro Vietnam Drilling and Well Services (PVD) fell VND2,000.

While the big caps were heading down, their smaller brethren retained some of the allure that has given them steady gains of late.

Vung Tau House Development (HDC) and Navifico (NAV) put on a chunky VND6,000, Hang Xanh Auto (HAX) added VND5,000, Techno-Agricultural Supply (TSC) gained VND3,500 and Binh Trieu Construction and Engineering (BTC) rose VND2,000.

The newcomers were also liked by the punters again, with Construction Joint Stock Company No. 5 (SC5) adding VND10,000 and Thanh Cong Textile Garment (TCM) climbing by VND3,000.

TCM went down well with the share-buying community too, with the number of buy orders overwhelming the orders to sell.

An analyst from the Vietnam Association of Financial Investors says the market will need time to regain its footing before making another rebound.