As predicted by many, the VN-Index fell back below 1,100 points at the Ho Chi Minh Stock exchange yesterday as skittish investors began unloading some of their holdings.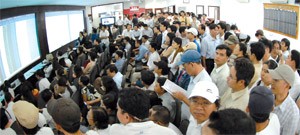 Skittish investors begin unloading some of their holdings
A decline in blue-chip shares was the main reason for the index losing 18.84 points to end the session at 1,087.76.
 
Sell orders for 15.43 million shares and fund certificates were matched today, and a further 1.5 million shares changed hands through private arrangements.
 
The market's second biggest stock by market capitalization, Pha Lai Thermal Power (PPC), fell limit down by VND3,000, while KDC lost VND13,000.
 
Hau Giang Pharmaceutical (DHG), which had been steady of late, also fell to end VND21,000 lower.
In similar fashion, Vinamilk (VNM) cast off VND7,000, Petro Vietnam Drilling and Well Services (PVD) shed VND5,000 and Vinh Son Hydropower (VSH) lost VND2,000.
 
Other blue chips like Thu Duc House (TDH), Thong Nhat Rubber (TNC), Sudico (SJS) and Petrolimex Gas (PGC) did likewise.
 
In the other direction, the shining stars of the past month, PetroVietnam Tourism and Service (PET) and Vincom (VIC), continued to go limit up and prevented the index from dropping even further than it did.
 
The large trading volume of these two stocks suggests the party could end soon. More than 1.2 million VIC shares changed hands, the second biggest number after Sacombank (STB), while 530,000 PET shares were traded.
 
While most of the large caps went down, their smaller brethren made some decent gains. Several even went limit up this morning, including Chang Yih Ceramic (CYC), DIC Investment and Trading (DIC), Saigon Garment (GMC) and Hacisco (HAS).

In a striking example of imbalance, the freshly listed Can Tho Techno-Agricultural Supply (TSC) set a record for the number of unmatched buy orders, which is good news for TSC and indeed any newcomer waiting in the wings.