The top Vietnamese securities official yesterday told listed companies to think twice before issuing shares as massive supplies could complicate the declining stock market.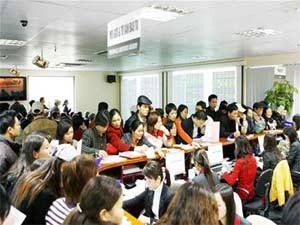 Investors at the northern bourse in Ha Noi.
During a meeting held in Ha Noi to review the stock market's activities last year and set new targets for 2008, Mr. Vu Bang, Chairman of the State Securities Commission (SSC) said that SSC is carrying out measures to revive the stock market including stimulating demands.
He promised to facilitate the expansion of private and public investment funds by allowing state-owned companies to pump non-state budgets into the market.
In related news, SSC and the State Bank of Viet Nam yesterday held a meeting to discuss a new regulation governing bank loans for stock investors.
The VN-Index has generally been declining lately. However, this morning, it rose up by 37.24 points, 4.6% higher than yesterday to close at 846.07 while the HASTC-Index in Ha Noi managed to climb up 19.83 points, up 7.46% to close at 285.63.
This is the strongest rise for nearly a year after the VN-Index plummeted yesterday to the lowest rate over last year.
The sudden bullish sentiment was attributed to measures by SSC and the central bank to limit supplies on the two bourses besides easing up on securities-mortgaged loaning.
Moreover, the central bank is planning to buy in US dollars to stabilize the Forex and help pump more domestic currency into the market.