Current economic difficulties are only temporary and the stock market will grow when the difficulties are overcome, said Deputy Prime Minister Nguyen Sinh Hung at a ceremony yesterday marking the third anniversary of operation by the Hanoi Securities Trading Center.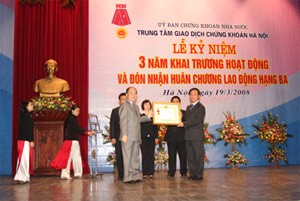 Deputy PM Nguyen Sinh Hung honored HASTC leaders with the third-class Labor Medal yesterday
The country's economy is sure to face difficulties at this time due to problems in the world economy and price hikes, Mr. Hung said.

However, these are only short-term difficulties and the Viet Nam's economy will grow rapidly in the longer term, he added.

Therefore, stock investors should understand clearly the situation and context of the economy and much not overreact to temporary changes, Mr. Hung said.

They have to be lucid about their reasons for investing, he added.

As stock market drops, the investors who are selling stocks will lose and those who buy stocks will be winners because the government will promote the stock market's growth, Mr. Hung said.

During the past three years, HASTC has made a great contribution to the equitization of state-owned companies. The center will be upgraded to comply with the Securities Law in the near future,
At the ceremony, HASTC was awarded with a third-class Labor Medal for outstanding achievement.